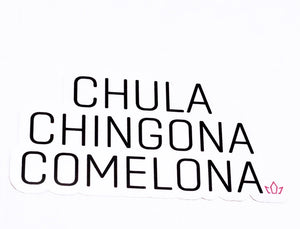 This CHULA CHINGONA COMELONA sticker can go anywhere with you, on your laptop, yeti cup, car etc. 


Weather Resistant
Durable
Digital print
Feel free to send us a message if you have any questions.
DESIGNED AND PRINTED IN HOUSTON, TEXAS

ALL DESIGNS ARE PROPERTY OF SONI TRENDS® AND ARE SUBJECT TO ­­COPYRIGHT PROTECTION LAWS.